NEW Before You Write a Single Note READ THIS: Top 13 Tips on A Successful Performer-Composer Relationship - UPDATED!
Top 13 Tips on A Successful Performer-Composer Relationship
As a young college composer, I was often asked to create pieces for my eager colleagues. Happily I would slave a semester away on a composition, only to see the confused faces of the performers when I excitedly handed them my carefully scrawled pages.
"Uh, er...Thanks," they would say....then about a week later, they would let me know the piece was "too hard" and they couldn't fit it in this semester, with the exams, juries, and Phi Mu Alpha keg parties coming up. After piling up a dozen rejected pieces, I began developing questions that would help me get to KNOW the performer.
QUESTIONS YOU SHOULD ASK BEFORE YOU WRITE A SINGLE NOTE:
1) Do you have a recording or upcoming recital I can hear to listen to you perform?
2) What length of composition can you fit into your schedule? (I recommend starting SHORT with a new performance relationship.)
3) What styles of music do you prefer to perform (if he says Blues only and you were planning on writing an aleatoric concerto, yeah, might not work out).
4) What styles of music are you willing to experiment with?
5) What difficulty level do you have the time to work on? (a busy performer will not always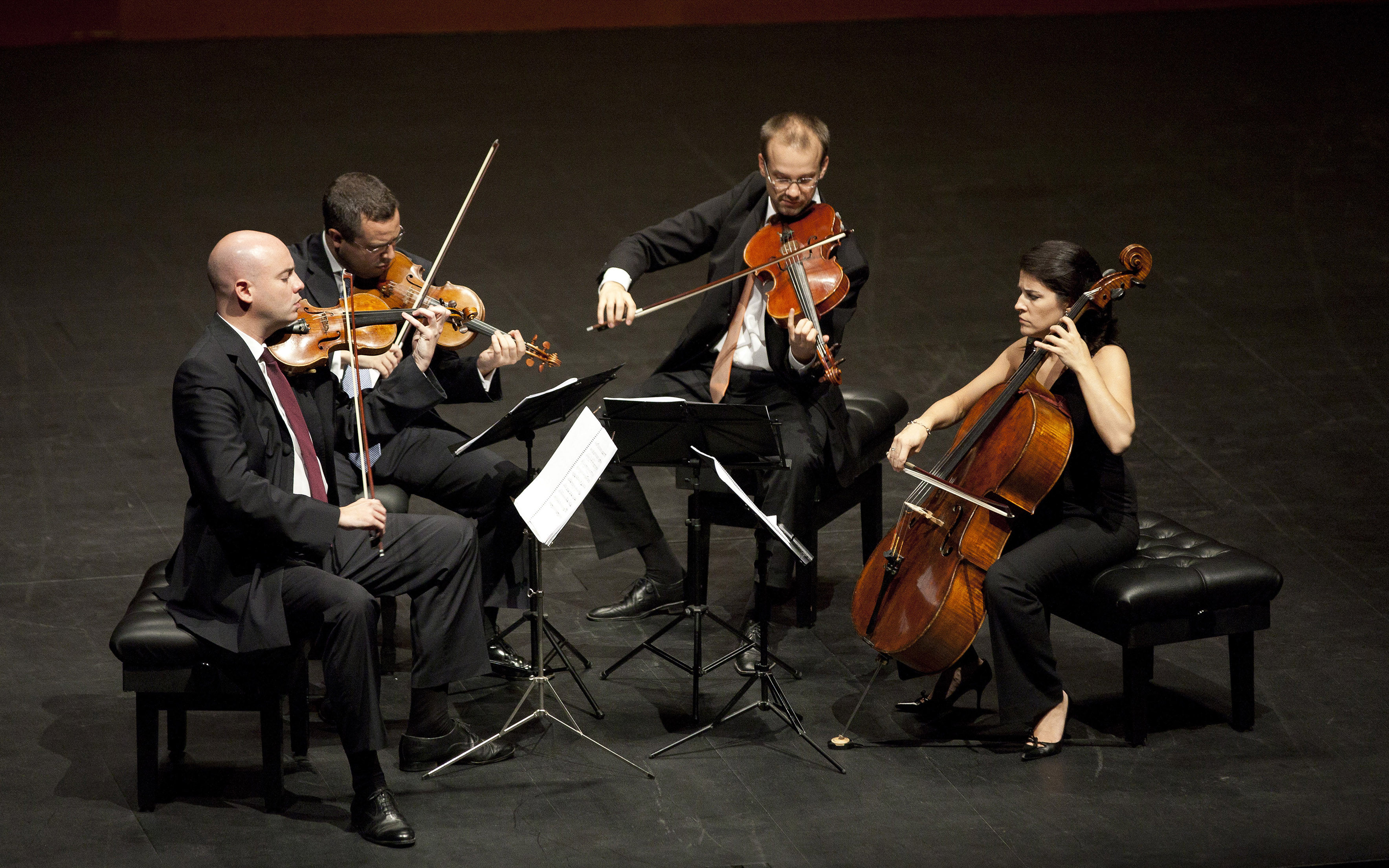 Cuarteto-Quiroga

be able to fit in an extremely difficult piece)
6) What are your technical limitations?
7) Do you have time to a spend one-on-one practice session to develop ideas (this is EXCELLENT for college students, who may not be familiar with a new instrument).
8) When do you need the finished score by? (Ok, composers, be honest with the performer. I don't know any composer who doesn't overshoot their deadline by at least a month.)
9) When will the piece be performed? (I almost never write a piece that does not have a performance date set already.)
10) What is the preferred instrumentation/vocal arrangement? (And, yes, be wary of temperamental members of the ensemble, who may quit the week before the concert. Best bet, write smaller than the ensemble, to cover personnel changes that may happen over the next year.)
11) What resources are at your disposal? (Not every percussion ensemble will have three marimbas, not every choir can afford DVD projection, etc.)
12) What commission, if any, will be involved?
13) Will the piece be recorded? (Always, ALWAYS get recordings of rehearsals and the final performance...you will need them for submitting to festivals later...even if the recording is so-so).
A FEW MORE TIPS:
1) Be sure to spend as much time as possible working WITH the performer and have open communications (whether by phone, videochat, live rehearsals, etc.).
2) When the score is completed, be sure it is PROFESSIONAL! No mistakes, neat (preferably computer score), complete, and easy to read in performance (good page turns, large print, ex).
3) Don't be surprised if a measure or two ends up being unplayable (you mean the violinist can't use three bows simultaneously??) Work WITH the performers. Flexibility is important.
4) I have met many composers who have treated their performers like the guy who picks up gum wrappers at Disney. Needless to say, an unhappy performer will not play to their best ability. These musicians have spent years perfecting their art and deserve as much respect as you do.
5) Always follow up with another piece once you have met a performer who is excited about your music. This will give you a chance to expand your range and will result in many rewarding collaborations!
----
ABOUT SABRINA PENA YOUNG
Award-winning composer Sabrina Pena Young is a foremost expert on Virtual Opera Production and Music Technology. A sought after consultant and speaker in music, arts, and technology, Young continues to push musical boundaries. Critics have called her
"Wagner 2.0"
and
"Talented"
with her works presented at Art Basil Miami, Opera America in NYC. the Beijing Conservatory, ICMC, London's Angel Moving Image Festival, the Fort Lauderdale International Film Festival, SEAMUS, the NY International Independent Film Festival, Miramax's Project Greenlight, TEDxBuffalo, the Holland Animation Film Festival, TEDx, and countless venues in Europe, Asia, Australia, and the Americas.
CONTACT YOUNG FOR YOUR NEXT COMMISSION, PROJECT, CONFERENCE.
SPENAYOUNG@gmail.com
FIVE STAR Multimedia and Consulting