ARTIST SPOTLIGHT SERIES: EXCLUSIVE INTERVIEW WITH THE CANADIAN MUSIC CENTER COMPOSER CAROL ANN WEAVER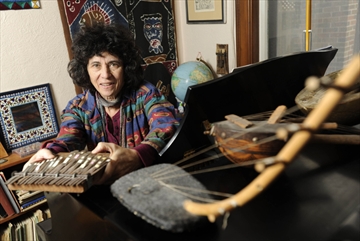 EXCLUSIVE INTERVIEW WITH THE
CANADIAN MUSIC CENTRE
'S CAROL ANN WEAVER
1. What are 3 words that describe your music?
genre-bending, African-influenced, jazz-inflected
2. Share your major influences and overall style.
My major influences have been Medieval and Renaissance music as wells music by Bach, Mozart, Beethoven Brahms, Charles Ives, Igor Stravinsky, Bela Bartok, African jazz, minimalist music including music by Ann Southam, Meredith Monk, Laurie Anderson and Philip Glass, as well as jazz/folk/roots music. My current style reflects all of this, fusing many of these sounds together.
3. What are you working on now?
I am working on a multi-media piece, Earth Voices, to be premiered at Mennonite/s Writing Conference in California, March 2015, pairing earth-themed writings with soundscapes and recorded compositions of mine.
4. What piece of advice would you give your younger you today?
Listen to music at least 200 years old. Assume this is your only sound. Create music under this influence, then step forward into today's sonic world, and you will have a style worth hearing – a style that remembers where you've come from while wanting to go into new places.
Sound in the Land by Carol Ann Weaver
5. Who are two musical artists who you feel should receive our readers' attention and why?
Ann Southam, Canadian composer, needs to be heard widely. Every sound she creates stems from her deep love of the earth, of insects, birds, sounds often neglected. Her resultant, often minimalistic style, is complex, multi-faceted, always beautiful, intriguing, and healing. Unlike so many other composers, her music inspires repeated hearings so that different complexities can be heard each time.
Laurie Anderson, American performance artist, has done more than any other living musician to blend, meld and fuse various art forms together so that 'music' is but 'one part' of her total impact. That she sees and hears the world from such a wide and open-minded vantage point, allows her music to travel into cracks and crannies otherwise not found.
FIND OUT MORE ABOUT CAROL ANN WEAVER!
Carol Ann Weaver website:
http://arts.uwaterloo.ca/
Albums:
http://arts.uwaterloo.ca/~caweaver/cds.html
More Music:
http://www.musiccentre.ca
Sound in the Land – Music and the Environment:
https://uwaterloo.ca/grebel/sound-land-2014
ACWC:
http://acwc.ca
CASE:
http://www.soundecology.ca
ABOUT CAROL ANN WEAVER
Carol Ann Weaver, American/Canadian composer/pianist/writer and member of Canadian Music Centre composes genre-bending multimedia, chamber, vocal works heard in North America, Korea, Africa, Paraguay, and Europe. Her seven CDs of chamber and vocal music are available at
http://www.musiccentre.ca
or
caweaver@uwaterloo.ca
.) She is Professor Emerita of Music at Conrad Grebel College/University of Waterloo, Chair – Association of Canadian Women Composers (ACWC), Secretary – Canadian Association of Sonic Ecology (CASE, affiliate of WFAE), and originator/director/editor – Sound in the Land Music Festivals
(
https://uwaterloo.ca/grebel/sound-land-2014
). Previously she taught at Eastern Mennonite University (Virginia), Canadian Mennonite University (Winnipeg, Canada), and Wilfrid Laurier University (Ontario, Canada).
----
NEW MUSIC RESOURCE WRITER SABRINA PENA YOUNG - Young is the foremost expert on virtual opera production and online collaboration with the debut of her machinima opera Libertaria: The Virtual Opera. Libertaria includes a live international cast and film crew, virtual choirs, sound synthesis, machinima, and contemporary choral writing, produced entirely online using crowdsourcing, social networking, and the Internet. Critics call Libertaria "Groundbreaking" and "Wagner 2.0". Works performed internationally at the Beijing Conservatory, the International Computer Music Conference, Miramax's Project Greenlight, the Athena Festival, the New York International Independent Film Festival, Art Basil Miami, Turkey's Cinema for Peace, Art Miami, and Pulsefield International Exhibition of Sound Art, the Holland Animation Film Festival, Australasian Computer Music Confetence, Buffalo's Women and Arts Festival, and countless venues worldwide. Young's recent projects include the social media opera The Village and a recent TED Talk on opera and the Internet at TEDxBuffalo.