An Anthology of Turkish Experimental Music 1961-2014
An Anthology of Turkish Experimental Music 1961-2014
BUY HERE:
http://www.forcedexposure.com/Catalog/va-an-anthology-of-turkish-experimental-music-1961-2014-2cd/SR.390CD.html
This anthology features works by Turkish artists ranging from the electronic music of the 1960s to all forms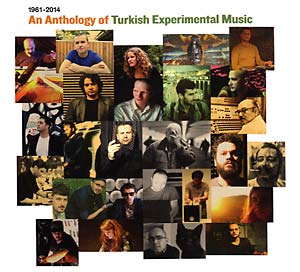 of experimental music of the 2010s. This is Sub Rosa's second release exploring experimental music by zone or sphere of influence. The constellation built between 2000 and 2012 with Sub Rosa's seven-part
Anthology Of Noise & Electronic Music
continues to expand through the
Early Electronic
collection (consisting mostly of tracks composed between the '50s and the '80s) and these "area anthologies," this one released following
An Anthology of Chinese Experimental Music 1992-2008
(SR 265CD). This collection covers a much wider time-frame than its predecessor; this is because, in Turkey, two exceptional composers emerged very early on to show the way to future generations that then followed in a piecemeal fashion. Indeed,
Bülent Arel
and
İlhan Mimaroğlu
did not have immediate followers. The explosion happened later, through the "serious music" of conservatories and universities (
Cenk Ergün
,
Koray Tahiroğlu
,
Mehmet Can Özer
) and the electronic/noise music avant-garde (
Nilüfer Ormanlı
,
Utku Tavil
) -- the great wave of the 2000s and 2010s. The beauty of this collection lies in its multifaceted nature; it features purely formal music, hijacked electronica, remnants of Turkish harmonies, and pieces that are more conceptual or even political (vaguely or strongly) in design.
Batur Sönmez
and
Erdem Helvacıoğlu
have managed to capture this diversity and energy. And it so happens that this profusion of music, related to an urgency to live and think freely, is blooming within an increasingly stifling space. Call it the spectacular beauty of an explosion. Most of the material included here has not been released before. Includes works by Bülent Arel, İlhan Mimaroğlu, Erdem Helvacıoğlu,
Batuhan Bozkurt
,
Alper Maral
, Batur Sönmez, Cenk Ergün,
Korhan Erel
,
Sair Sinan Kestelli
, Koray Tahiroğlu, Mehmet Can Özer, Nilüfer Ormanlı, Utku Tavil,
Asaf Zeki Yüksel
,
SIFIR
(
Zafer Aracagök
),
Cem Güney
,
Tuna Pase
,
2/5BZ
,
Cevdet Erek
,
Reverie Falls On All
, and
Burçin Elmas
, as well as CD-only works by
Tolga Tüzün
,
Başar Ünder
,
Osman Kaytazoglu
,
Volkan Ergen
,
Mete Sezgin
,
Mors
,
D2GG
, and
Meczup
.